EXHAUST EXPANSION JOINTS
Triad Bellows specializes in the design and manufacturing of metal bellows expansion and exhaust flex joints specifically engineered for the engine exhaust industry. The minimum pressure rating on Triad exhaust expansion joints is 5 PSIG @ 1000ºF making them the perfect solution for blower, fan, and other low pressure piping applications. Triad Bellows supplies Single-ply and Multi-ply exhaust expansion joints for diesel driven generators, marine exhaust and numerous other hot air piping systems. Our metal bellows and expansion joints are designed and manufactured in accordance with the Expansion Joint Manufactures Association (EJMA) latest 10th Edition.
Over 75% of the expansion joints manufactured by Triad Bellows incorporate a high performance multi-ply bellows for maximum life expectancy.
Our Anaheim, California manufacturing facility is equipped with state-of-the-art exhaust bellows manufacturing machinery, sheet metal fabrication equipment, and an in-house machine shop in addition to our precision welding department.
As an industry leader, Triad Bellows has the knowledge and capability to custom design an exhaust expansion joint specific to your complex piping system. There are also thousands of pre-engineered exhaust expansion joints in our catalog that are perfect for the vast majority of engine exhaust systems. Let our experienced sales engineering team help to select the DIESEL ENGINE EXHAUST EXPANSION JOINT that is just right for you. Our team has been designing and manufacturing bellows and expansion joints for engine exhaust systems for over 35 years. We are looking forward to working with you.
125/150# ANSI EXPANSION JOINTS
Engine exhaust systems and low pressure expansion joint applications do not require heavy-duty steel slip-on flanges. Triad bellows utilizes fully machined ½" thick ANSI 150# drilled flanges in all exhaust expansion joints. The result is lower unit costs, lower shipping costs and a lighter exhaust system.  When T-304 or T-316 S/S flanges are required the …
MULTI-PLY BELLOWS SPECIFICATIONS
The Multi-ply metal bellows used in our standard expansion joints are made in 3 standard lengths, 6" live length, 9" live length and 12" live length. Review the performance data and choose the bellows length that is best suited for your exhaust or ducting system. When selecting an expansion joint simply choose the part number …
METRIC (DIN & JIS) EXPANSION JOINTS
Triad Bellows manufactures the full size range of METRIC EXPANSION JOINTS for both engine exhaust and higher pressure applications. Available metric flanges include DIN-PN6, PN10, PN16, PN25, JIS-5K, 10K, 16K, and 20K. With our extensive tooling inventory Triad now offers metric vanstone floating flanges in the full size range as well. Please note that a …
C-MANIFOLD EXPANSION JOINTS
A complete selection of engine exhaust expansion joints to fit C-Manifold type engines are shown in our latest catalog. Multi-ply bellows are recommended and most commonly used in  factory expansion joints. Triad stocks a large inventory of C-Manifold mating flanges in order to provide quick deliveries when needed. A major benefit that is standard with …
WAUKESHA EXPANSION JOINTS
Many Waukesha engines require a special 20 degree flared turbo connection that is joined to the expansion joint with a special v-band clamp. Triad's WAUKESHA EXHAUST EXPANSION JOINTS are made with a heavy duty turbo connection lip flange that is 25% thicker than other manufacturers. The reason behind the increase in material thickness is to …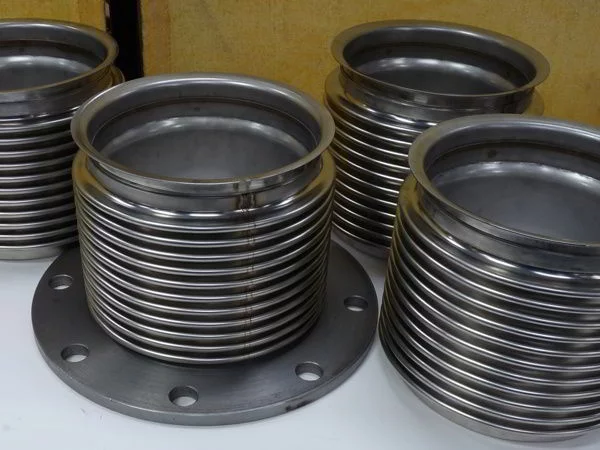 MAX FLOW EXPANSION JOINTS
MAX FLOW EXHAUST EXPANSION JOINTS provide the lowest back pressure of any expansion joint with flow liners. The full flow design incorporates a larger diameter bellows and a flow liner that has the same inside diameter as the piping system. As with all Triad Bellows products, the line of MAX FLOW EXPANSION JOINTS is highly customizable. Any combination …
SLOTTED CUFF EXPANSION JOINTS
Expansion joints that are made with slotted cuff ends require a band or U-bolt clamp to make the attachment to the system exhaust tube or pipe. Triad manufactures custom slotted cuffs in a wide variety of materials and sizes. SLOTTED CUFF EXPANSION JOINTS can be custom made to fit over any size pipe or tube including …
SOCKET WELD EXPANSION JOINTS
SOCKET WELD EXHAUST EXPANSION JOINTS are manufactured with rolled cylinder socket fittings that are welded to the bellows to create a perfect fit expansion joint for your exhaust system . The socket can be made from any available material and engineered to fit precisely over any diameter pipe or tube, imperial or metric. The installation and …
EXTREME TEMPERATURE EXPANSION JOINTS
Today's modern engines run hotter and faster than ever before. The line of EXTREME TEMPERATURE EXHAUST EXPANSION JOINTS offered by Triad Bellows are rated up to 1500º F. The bellows in these high temperature expansion joints are manufactured with Alloy X or Inconel 625 high nickel alloys. These proven aerospace alloys allow the EXTREME HIGH TEMPERATURE …
EXTREME MOVEMENT EXPANSION JOINTS
With the ability to make long length bellows, Triad's line of EXTREME MOVEMENT EXHAUST EXPANSION JOINTS is a real game changer. Customers experience substantial savings by reducing the number of expansion joints required in the piping run. The savings are compounded by reducing the number of anchors and pipe guides that are also needed. Axial compression …
DETROIT / MTU EXPANSION JOINTS
As with many other engine manufacturers, Detroit / MTU engines require special flanges on the exhaust expansion joint in order to mate with the exhaust outlet of the turbo charger. These special flanges are offered in both floating flange and fixed flange options on all Detroit / MTU Expansion Joints. As with other exhaust bellows assemblies …
MISC. EXPANSION JOINTS
With the endless combinations of fittings and materials it is not practical to list everything on our website or in our catalog. Triad Bellows Design and Mfg. specializes in custom expansion joints for engine exhaust systems and low pressure piping. If you can dream it, more than likely we can build it quickly and economically. …
CUMMINS EXPANSION JOINTS
Special floating flanges come standard on all CUMMINS ENGINE EXHAUST EXPANSION JOINTS. The fabrication team at Triad Bellows will custom build your expansion joint with the fitting combination and material selection that best suits your needs. Triad recommends the use of multi-ply bellows in expansion joints that are installed in critical engines applications. …
WELD END EXPANSION JOINTS
Exhaust expansion joints with 37-1/2 degree beveled pipe ends are available in the exact length needed to fit your piping system. These BUTT WELD END EXPANSION JOINTS can be manufactured with carbon steel or stainless steel ends. Beveled pipe ends can be made in Schedule 5, 10, Std., 40, or 80 wall thicknesses. Square cut pipe …